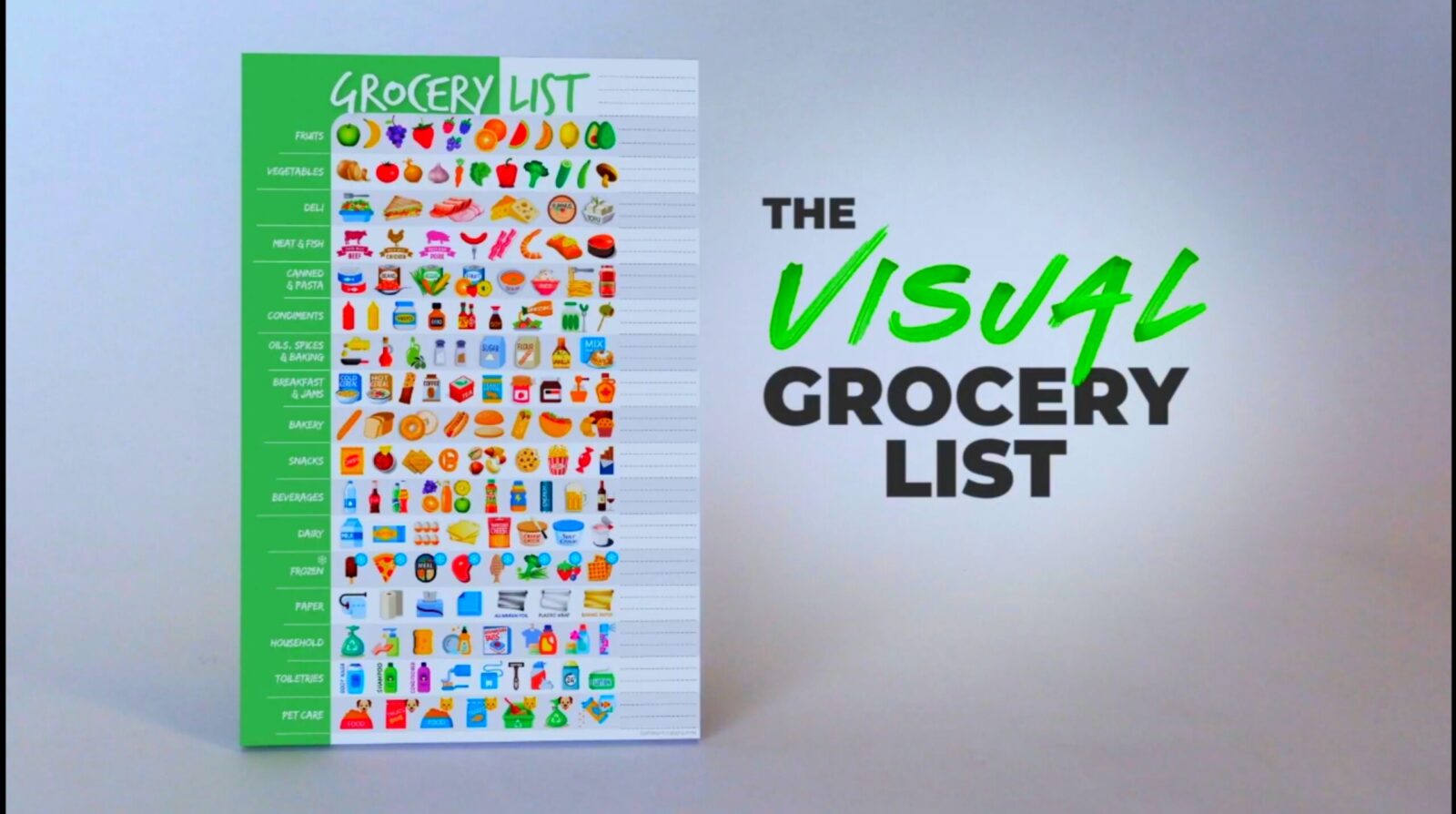 Household
How Can I Use Visual Grocery List and What Should a Grocery List Include?
Visual Shopping List
The fact that I live in Pakistan and speak and comprehend Urdu makes me feel as though I need this grocery list when I travel outside of my home country. I have a very difficult time understanding the language of a foreign country when I travel, and this problem is made much worse when I go to the market and want to buy anything from a shopkeeper but neither of us can communicate in the other person's language. I came up with the idea to put my finger on the item I wanted on the grocery list so the shopkeeper would know what I really wanted and he could then grab it for me. I found it to be really simple, and I now carry a grocery list in my purse.
Realizing you forgot something at the grocery shop after you get home is the worst feeling. But don't panic, there is a mobile application for a visual shopping list. These applications allow everyone to benefit from the same shopping list. You can find several visual grocery images in this programme. If you travel to another nation and don't speak the native tongue, you can still use these photographs of the grocery store.
Skinless chicken or turkey breasts
Agava
Almond Milk
Almond
Aluminum Foil
Apple Juice
Apple
Apple Green
Applesauce
Apricot
Artichoke
Asparagus
Aspirin
Avocado
Avocado Roll
Baby Bel
Baby Food
Baby Wipes
Bagels
Bananas
Bandaids
Basil
Batteries
BBQ Sauce
Beans
Beans
Beer
Beets
Birthday Card
Biscuits
Black Beans
Black Olives
Black Berries
Bleach
Blueberries
Body Wash
Bok Choy
Bottles Water
Bread
Breadsticks
Broccoli
Brussels Sprout
Bubble Bath
Burritos
Butter
Butternut Squash
Cabbage
Cake
Candy
Candy Bar
Canned Beans
Canned Carrots
Canned Corn
Canned Goods
Canned Green Beans
Canned Pears
Canned Tomatoes
Cantaloupe
Carrots
Cashew
Cat Food
Cat litter
Cauliflower
Celery
Cereal
Cheerios
Cheese
Cheese crackers
Cherries
Cherry tomatoes
Chick peas
Chicken
Chicken Nuggets
Chicken Soup
Chips
Chocolate
Chocolate chips
Chocolate Kisses
Chocolate Milk
Chocolate syrup
Cilantro
Cinnamon
Cinnamon bread
Cinnamon rolls
Coconut
Coconut Milk
Coffee
Cookies
Corn
Corn Dogs
Cottage Cheese
Cotton balls
Crab
Crackers
Cranberry Juice
Cream
Cream Cheese
Croissants
Cucumber
Cumin
Cupcakes
Deodorant
Diapers
Dishwashing Soap
Dixie cups
Dog food
Dog treats
Doughnuts
Dried beans
Dryer sheets
Edamame
Eggplant
Eggs
Feminine Products
Fish
Fish Sticks
Floss
Flour
Flowers
Formula
Free choice
Frosting
Frozen fries
Frozen Peas
Fruit
Fruit snacks
Garbanzo beans
Garlic
Ginger
Glass cleaner
Goat cheese
Goldfish
Graham crackers
Granola bar
Grape Juice
Grapefruit
Grapes
Green Onion
Ground beef
Guacamole
Ham
Hamburger
Hamburger Buns
Hand soap
Hash browns
Honey
Hot chocolate
Hot Dog Buns
Hot Dogs
Hummus
Ice
Ice Cream
Icing
Jalapeno
Jello
Jelly
Jicama
Juice Boxes
Kale
Ketchup
Kitchen cleaner
Kiwi
Kleenex
Laundry detergent
Lemon
Lemonade
Lettuce
Light Bulb
Limes
Lobster
Lotion
Lunch Meat
Macaroni
Macaroni and cheese
Makeup
Mandarin oranges
Mango Juice
Mangoes
Marshmallows
Mayonnaise
Meat
Meatballs
Medicine
Milk
Mouthwash
Muffins
Mushrooms
Mustard
Nachos
Napkins
Noodles
Noodles
Nutella
Nuts
Oatmeal
Oil Spray
Olive oil
Olives
Onion
Orange Juice
Oranges
Oreos
Pancake mix
Paper bowls
Paper cups
Paper Plates
Paper Towels
Pasta
Peaches
Peanut Butter
Peanut butter crackers
Peanuts
Pear
Peas
Pecans
Pens
Pepper
Pepperoni
Peppers
Pickles
Pie
Pineapple
Pineapple Juice
Pink lemonade
Pita
Pizza
Plastic forks
Plastic knives
Plastic spoons
Plastic utensils
Plastic Wrap
Plums
Pop Tarts
Popcorn
Popsicles
Pork chop
Potato
Pretzels
Pudding
Pull-ups
Pumpkin
Q-tips
Raisins
Ranch dressing
Raspberries
Ravioli
Razors
Red onion
Rice
Rice cakes
Rice krispie treats
Roast beef
Rolls
Root beer
Rosemary
Salad
Salad dressing
Salami
Salmon
Salsa
Salt
Saltine crackers
Sausage
Seaweed
Shampoo
Shaving Cream
Shredded cheese
Shrimp
Sliced cheese
Smoothie mix
Soap
Soda
Soup
Sour cream
Soy Milk
Soy sauce
Spaghetti
Spaghetti Sauce
Spices
Spinach
Steak
Strawberries
Straws
String cheese
Sugar
Sunscreen
Sushi
Sweet Potatoes
Swiss cheese
Syrup
Tacos
Tater tots
Tea
Tissue
Tofu
Toilet cleaner
Toilet Paper
Tomato
Tomato Juice
Tomato Soup
Toothbrush
Toothpaste
Tortilla chips
Tortillas
Tortillas
Trash Bags
Tuna
Turkey
Turnips
Vegetables
Veggie straws
Vinegar
Vitamins
Waffles
Walnuts
Watermelon
Whipped Cream
Wine
Yogurt
Zipper Storage Bags
Zucchini
Ground turkey or chicken
Whole wheat bread, pita pockets, and English muffins
Whole-grain flour tortillas
Brown rice
Whole wheat or whole-grain pasta
Tomato sauce
Mustard
Barbecue sauce
Halibut
Trout
Mackerel
Your favorite seafood
Reduced-sodium lunch meat (turkey, roast beef)
Extra virgin olive oil
Canola oil
Nonfat cooking spray
Jarred capers and olives
Red-wine vinegar
Salsa
Hot pepper sauce
This is a visual grocery list and what should a grocery list include